<! ========= Cool Timeline Free 2.7 =========>
Timeline
2020
2020-Current
2020
June – Arch Gola installed in the courtyard.
2021
July – With the Les McGreevy money we started the link road as per masterplan.
2022
July – Martin Weaver departed as Curator.
July – Thrive Spaces and Places appointed as interim managers.
2023
March – Marion Nicholas departs as Manager/office coordinator after 7 years.
May – Powhiri & Presentation with Arboretum Representatives and Government departments on the 100-year Master plan.
July – Māori Carvers spend the week at Eastwoodhill as part of the Tairawhiti Arts Festival & Matariki Celebrations.
2010
2010-19
2010
100 years anniversary of Eastwoodhill – centennial celebrations throughout the year.
2011
Danny Fraser was appointed as the fourth Curator of Eastwoodhill.
2013
Ben Lyte was appointed as the fifth Curator of Eastwoodhill.
2014
New children's playground was built at Eastwoodhill.
2015
Xanthe White was appointed as Garden Advisor for the ongoing planning of the Homestead Garden.
Dan Haliday was appointed as the sixth Curator of Eastwoodhill.
2016
New Tree Cathedral planted in Little Flat.
A new ramp was built for the children's playground.
New Rotary Driveway was created.
2017
A new greenhouse/propagation shed was built, funded by Sir John Logan Campbell Residuary Trust.
Introduction of new style Lutyens Seats in Homestead Garden.
Hi-vis binoculars installed at Hi Point Lookout – funded by Tennyson Charitable Trust.
December – Dan Haliday left as Curator.
2018
March – Sundial updated and replaced in original position.
August – Bob Berry creator of Hackfalls Arboretum dies at 102.
November – New car park gabion baskets filled with different timbers completed and new plantings on the bank.
2019
May – Martin Weaver appointed as seventh Curator of Eastwoodhill
August – Eastwoodhill bus trip to Gibbs Sculpture Farm
September -MOU signed between Eastwoodhill and National Arboretum Canberra – attended by Jane Williams, Marion Nicholas, and Martin Weaver.
November – MOU signed between NZ Arb – attended by Martin Weaver and Jane Williams in Napier.
December – Large bequest from Est Les McGreevy.
Lady Anne Berry dies at 99.
2000
2000-09
2000
Millennial Wood was planted for the year 2000 celebrations.
2002
Paul Wymen was appointed as the third Curator of Eastwoodhill.
2003
The Visitor Centre was built to accommodate increased visitor numbers.
2004
NZ Gardens Trust recognise Eastwoodhill as a National Garden of Significance.
2005
Eastwoodhill is recognised as New Zealand's National Arboretum.
2009
Eastwoodhill wins GOLD at the 2009 Ellerslie Flower Show in Christchurch. Ongoing events and catering work continue raising funds for the Eastwoodhill Charitable Trust to ensure the history is kept alive.
1990
1990-99
1991
Douglas Cook Centre for Ornamental Plant Studies was built.
1992
Gordon Collier, of Titoki Point, was appointed as garden advisor to develop a planting plan for the Homestead Garden.
1998
Accommodation wing built for Douglas Cook Centre.
1980
1980-89
1982
Kevin Boyce was employed as Eastwoodhill's first Curator.
1984
Formation of garden volunteers to look after the Homestead Garden.
1985
Garry Clapperton appointed second Curator of Eastwoodhill.
1970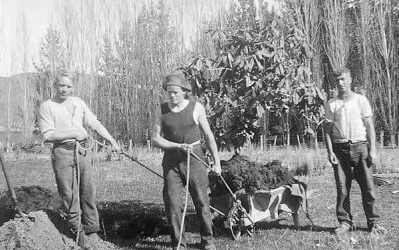 1970-79
1970
HB Williams establishes the Eastwoodhill land as a trust, and after considerable work, a private members bill was put to Parliament.  Bob Berry (from Hackfalls) begins cataloguing the collection at Eastwoodhill.
1975
The Eastwoodhill Trust Act (1975) was passed, and the Eastwoodhill Trust Board was formed.
1978
Eastwoodhill was awarded, 'Arboretum Distinguished for Merit' by the International Dendrology Society.  The first such award by the IDS.
1960
1960-69
1960
Glen Douglas planted.
1965
Eastwoodhill was bought by H.B. Williams from Douglas Cook.
1967
Douglas Cook died 27th April 1967.
1950
1950-59
1950
Found and bought land for Pukeiti and with Russell Mathews established Pukeiti Rhododendron Trust in Taranaki.
1950's
Pear Park, Circus and Orchard Hill planted.
1930
1930-39
1930
Married Claire Bourne.  The original homestead burnt down.
1933
Adopted Sholto Douglas Cook.
1934-37
Cabin Park planted.
1936
Claire and Douglas Cook visit England.
Original Tree Cathedral planted.
1937
Claire and Douglas separate, and Claire moves to Auckland.
1910
1910-19
1910
Bought 250ha of farmland from the Ngatapa subdivision, which Douglas Cook named "Eastwoodhill" after the Miller family home in Thornliebank, near Glasgow. Flowers, orchids, and woodlots were planted.
1914
Sent to war in Egypt and France and was injured and sent to England to recuperate. Was inspired by the beautiful parks and gardens he saw there and modelled Eastwoodhill on those he saw in England.
1918
The first arboretum plantings were made mainly of woodlots and shelter belts. Poplar Avenue was planted along the main drive.